I have an 18x12 print of this image in my office and have been living with it for the better part of a year. I feel it's impact every time I look at it.
The original idea for this image came to me in late 2016 as I reflected on the tensions created in Shusaku Endo's novel Silence and Scorsese's movie adaptation of it, along with some of the song lyrics written by my friend Bryan Gormley. My hope was to create an image that juxtaposed the oppositional nature of the sacred and profane, saint and sinner, violence and peace.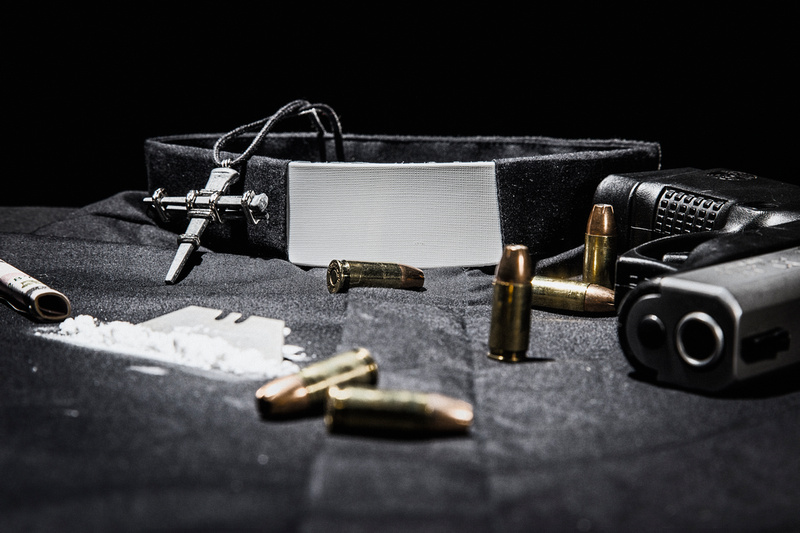 Broken
The theology behind this image reflects the reality that we live in a broken world, that innate sense that things are not the way they are supposed to be. Christians refer to this brokenness as sin.
The apostle Paul wrote, "Here is a trustworthy saying that deserves full acceptance: Christ Jesus came into the world to save sinners—of whom I am the worst" (1 Timothy 1:15). What allows him to say this is not a false sense of humility but rather an acceptance of reality. The more Paul came to know and understand the holiness of God the more clearly he came to see the huge gulf that existed between his best and who God was and is in Jesus Christ.
Tragically too many Christians today take a position in which they pretend to be "better" than other sinners and are often heard castigating people for their failures. Yet Christians, more than any other group, should be the first to declare that sin is the great leveler of all people, we are all guilty. We all have the same starting point as part of humanity, created in the image of God, but due to sin our humanity is fractured and broken. So everyone has the same need to receive forgiveness and experience the grace of God.